| | |
| --- | --- |
| | Top Destinations |
| | |
| --- | --- |
| | Travel Tools |

Shanghai Transportation Guide
The city covered an area of only 636.18 square kilometers in 1949. By the year 1958, after Shanghai took over 10 counties from Jiangsu Province -- including Jiading, Baoshan, Shanghai, Songjiang, Jinshan, Chuansha, Nanhui, Fengxian, Qingpu and Chongming, the area under the city's jurisdiction expanded to 5,910 square kilometers. The city had a total area of 6,340.5 square kilometers at the end of 2000, 0.06% of China's total territory. The city extends about 120 kilometers in north and south and nearly 100 kilometers in east and west. Shanghai has an urban area of 3,924.24 square kilometers and rural area of 2,416.26 square kilometers. Its land area covers 6,219 square kilometers and water area runs 122 square kilometers. The city's Chongming Island is the third largest island in China, covering an area of 1,041 square kilometers.

Aviation: Shanghai now possesses two international airports, i.e. Hongqiao International Airport in the west and Pudong International Airport on the seashore of East China Sea. At present, the annual passenger handling capacity of the two airports amounts to 16.4 million. When all the four runways are completed in Pudong, Shanghai's annual air passenger handling capacity will hit 100 million.
Railway: There are around 100 special railway lines in Shanghai and it will establish a international multimode container network with express through train as the mainstay, linking Hongkong and Macao to the south, Russia and Europe to the north, connecting overseas to the east and reaching Mid-Asia to the west.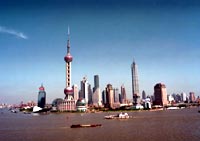 Port: Shanghai Port is the largest port in Mainland China, covering an area of 3,600 km*m. Starting from 1980s, Shanghai Port has become a world-class port with a handling capacity of 100 million tons. Through the construction of Waigaoqiao Wharf and No.5 Trough Project and reconstruction and functional switch of part of the old wharves along the riverside of Huangpu River, Shanghai Port will turn into an inter-continental hub port for container transportation. Shipping: Shanghai has already established shipping business links with more than 1,100 ports in more than 200 countries and regions in the world. In terms of oceangoing lines, you can reach various destinations inctuding Hongkong, Taiwan (via a third place), R.O.K., Japan, Southeast Asia, Australia, Israel, Mediterranean, Northwest Europe, South Africa, South America and East and West Coasts of U.S.A., etc., in terms of coastal lines, you can reach the major harbors along the coast from north to south; in terms of the Yangtze River lines, you can directly reach the ports along the mid and downstream of Yangtze River; in terms of the inland water transportation, you can reach the big and small ports and harbors of Jiangsu, Zhejiang and Anhui Provinces via the waterway network in the south of Yangtze River Basin.
Travel Guides