| | |
| --- | --- |
| | Top Destinations |
| | |
| --- | --- |
| | Travel Tools |

Hong Kong Activities - top things to do in Hong Kong
Aberdeen


Aberdeen, on the southwest side of Hong Kong Island, is famous for the thousands of boat people living on the thousands of dilapidated boats in the harbor; its two very large, very good floating restaurants which serve magnificent seafood; and its small harbor. At night, the myriad of neon lights up the area. Near here are the Ocean Park and Waterworld complexes (see below) so it's not a bad idea to combine the two into one trip.



Causeway Bay Shopping


Designer clothes, trend-setting fashion houses, exclusive outlets line Hennessy and Yee Woo streets, while more traditional Chinese wares are available on the side-streets housing Jardine's Bazaar. If you prefer department stores, the Japanese have a number of large stores here including the centerpiece, 10-story Sogo in the middle of it all just above the MTR Station. Finally, the modern (and big, of course) Times Square shopping/office complex dominates the southern part of the area. If you want to shop or just want to see why Hong Kong is often referred to as a shopper's paradise, come to Causeway Bay.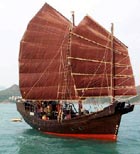 Ferry to Lamma Island
Lamma is just off the southwest coast of Hong Kong Island just across from Aberdeen. It's a picturesque, sleepy island with a nice hiking trail across it. Do the round-trip and then have a delicious seafood dinner at the port. Ferries to Lamma are run by the Hong Kong and Kowloon Ferry Company (2815-6063) and leave from the series of seven piers just west of Central's Star Ferry pier, in back of the Airport Express Line's Hong Kong station. You want pier Number 5. The cost is about HK$20.00 (less than three US dollars) for the 45 minute ride.

Hollywood Road and Ladder Street


Located in Central, just a bit west of the area covered by our Central map, is Hollywood Road. Your hotel's Guest Relations Officer can give you a map and show you how to get there. This is a terrific area for antiques, Chinese porcelain, paintings, etc. Ladder street is called that because it's almost straight up! The little shops here sell everything Chinese. Worth a visit.
Ocean Park/Waterworld


Ocean Park, Southeast Asia's largest leisure complex, lies between Aberdeen and Repulse Bay and provides a great day out for all the family. Attractions include a cable car and the world's second-longest outdoor escalator, marineland shows and exhibitions, a shark tunnel, an aviary, a butterfly house, the 72-meter Sky Tower, the Dinosaur Discovery Trail, a huge roller coaster and other thrilling rides. Adjacent to Ocean Park is Middle Kingdom, which presents a "living" history of China through replicas of ancient palaces and pagodas, temples and street scenes. The park is open daily from 10.00 a.m. - 6.00 p.m. and admission is HK$165 for adults and HK$85 children ages 3-11. To get there, take the Ocean Park Citybus from the Admiralty MTR station, which runs every 10 to 20 minutes.
Located next to Ocean Park's lowland entrance and under the same management, Waterworld is a good place to cool off on a hot summer's day. It contains several pools with various slides and diving platforms, a winding "river" you can float down, a rapids ride, and even a pool with a sandy beach and waves. Don't forget your bathing suit. The park is open daily from 9.00 a.m. to 9.00 p.m. in July and August, from 10.00 a.m. to 6.00 p.m. June and September. The park is CLOSED from October through May. The admission is HK$65 for adults and HK$33 for children. This drops to HK$44 and HK$22 respectively after 5:00 p.m. Free admission is granted to children under 3-year-old and senior local residents aged 65 or above with Hong Kong Identity Card. These prices may, of course, change any time without notice. For more information, please call 2552 0291. Tickets are also available at all 7-eleven outlets.

Peak Tram


Another obligatory attraction, the Peak Tram is a cable-pulled railway (funicular) running 1.4 kilometers from Central near Hong Kong Park up to the top of the high hills above the city, called The Peak or Victoria Peak. At The Peak is a huge, wok-shaped shopping and eating complex, not to mention a sprawling, gorgeous, panorama of Hong Kong, Kowloon and beyond. The fare is advertised at HK$20 but that's if you plan to stay up there! A round-trip ticket will cost HK$30. The Peak Tram runs every ten minutes from 7:00 a.m. to midnight. Sit on the right side on the way up for the best views

Stanley
The Stanley Market is a deservedly popular outdoor market in this attractive fishing town on the southeast of the island. Shop for leather, blue jeans, porcelain, linen, fashions, you-name-it along with flock of locals and foreigners alike. Nearby are plenty of good places for food and drink, or take a stroll down a short path to one of the surrounding beaches.
Travel Guides