Samui travel information and local guide
About Koh Samui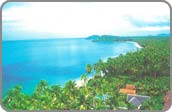 There are many wonderful destinations to visit in Thailand. Why include Koh Samui in your travel plans?
Not that long ago the island was a favorite destination of adventure seeking sun worshipers. These savvy travelers visited Samui long before it was in the guide books. Seaside bungalows were available for as little as 150 baht per night, and you could count on spending day after sunny day on the beach in nearly perfect tranquillity. These visitors found there was an almost mesmerizingly restful and carefree feel to the island that often kept them here long after they had intended to return home.
Those who have known and loved Samui since those early days may not agree about the current pace of development in some areas, but for the most part they do agree on one thing. The island retains its sleepy magic. Koh Samui is still a paradise.
Tourist arrivals have been increasing steadily in recent years. An impressive island-wide effort was undertaken in late 1999 and continues in early 2000 to improve the island's infrastructure to accommodate these developments. Those who visited prior to 1999 will be astonished at the number of newly paved and widened roads, drainage systems, and perhaps most welcome; the addition of sidewalks in the bustling villages of Chaweng and Lamai - home to many of the islands hotels, nightlife and shopping areas.
However much of the island, especially the south coast, remains largely undeveloped. A day spent on scooters or in a jeep exploring this lush underbelly is a day of sheer serendipity. With its spectacular and astonishingly diverse flora, and its dozy little neighborhoods peopled by some of the world's most amiable islanders, this kind of exploration is sure to provide the delights you imagined when you planned your holiday.
Short direct flights here now depart several times a day from Bangkok, Phuket, Kuala Lumpur, and Singapore. You can also arrive by train, bus and boat.

The Climate and Weather


Unfortunately visitors are sometimes incorrectly informed about Koh Samui's seasons prior to their departure. Not everyone is aware for example, that we do not have the same rainy season as does Phuket.
Generally speaking, between the months of January and September, most days will be filled with sun, except for the occasional downpour, which usually doesn't last long. The frequent showers (not monsoons) come in October, and last until sometime in December. Water sports enthusiasts should note that the sea can get rough at this time, and visibility can be affected.


Culture, History & Religion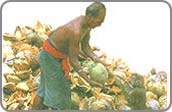 Perhaps you have friends or family who have visited Thailand and told you of their experiences. If Samui will be your introduction to the Kingdom, bear in mind there are some similarities and some differences between islanders and city folk. To compare residents of Bangkok with those of Samui would be like comparing big city dwellers from any country in the world with those in the villages.
Samui is home to about 40,000 full-time inhabitants. Like the surrounding islands, it was first settled by ethnic Malay fishermen from the mainland, as well as immigrants from Southern China; at a time when the surrounding waters teemed with fish. Maps dating as far back as 1687 have the island identified as "Pulo Cornam," from the Malay. Little written history of the island exists, and most of the knowledge we have has been passed down through generations. There are two theories as to how the island was named. The first suggests that the name of a commonly-found tree called "mui" was lengthened at some point. The second, and probably more likely notion, is that "Saboey" which is a Chinese word for safe haven (certainly an apt description of the island's largely protected waters) was adopted by Chinese fishermen, and later become the name we use today.
Vestiges of the once thriving fishing communities can still be seen in villages such as Nathon and Maenam. Lucrative coconut and rubber farming industries also developed, and harvesting of these crops still takes place in the hills of the island's interior. Samui is home to more varieties of coconut palms than any other place on earth.
Until not much more than a decade ago, folks on Samui had scarcely seen foreigners. With the influx of tourists an industry sprung up, and thousands of jobs were created. Foreign currency flowed in, benefiting many. These former fishermen and farmers now suddenly competed to fulfill Western tastes and demands. But the well-known patient and adaptable nature of Thais, and the new opportunities that tourism represented, made it easy for them to accept the oddities of their new visitors with mostly good grace. Their entrepreneurial spirit helped compensate for their limited knowledge of other cultures, and many have succeeded remarkably well.
Most Thais are Buddhist, though a small percentage of the population is Muslim. You may wonder about the role religion plays here. In fact, the philosophy of Buddhist thought is more significant in the life of the average Thai than is the dogma of the religion. Most people don't allow themselves to get too worked up over the problems and minor inconveniences of this life, after all, it is only a passage into another one! Consider this, and the island's benign climate, its history of bountiful harvests from the land and sea, and the almost complete absence of the kind of strife that has devastated so many of the world's peoples, and it becomes easier to understand the "take life as it comes" approach which continues to astonish and perplex visitors.
If You're Staying Awhile Thais are extraordinarily tolerant, and will not expect you to know the "Thai way" of doing things. They will overlook almost all your cultural faux pas. However if you would like to acclimate yourself as much as possible, there are many fairly simple adjustments you can make that are likely to surprise and in some cases delight people.