Samui Transportation and transfer guide
Getting There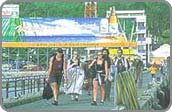 Samui is an island located about 80 kilometers from Suratthani, the nearest mainland city. You can fly here with Bangkok Airways directly from Bangkok. They also have direct flights from Phuket, Krabi and Singapore. Pelangi Airlines now offers 2 charter flights per week direct from Kuala Lumpur, with availability subject to demand.
Those on a budget can take the trains from any of the above cities for as little as 1/10 the cost of flying. Many people book sleeping berths in the overnight trains from Bangkok. You will disembark at Suratthani station very early in the morning, from where you are taken by bus to the ferry for the 1 to 2 hour crossing from the mainland.
Buses are the least expensive option for those on a tight budget. They also travel to Suratthani from all major cities in the region. If you have a car or motorcycle that you wish to bring to Samui, you can drive to Donsak Ferry Terminal and put your vehicle on board.

Plane
The direct flight from Don Muang airport in Bangkok to Samui is by far the most convenient way to come. Samui Airport is privately owned and operated by Bangkok Airways and the price of the ticket is high by comparison to other comparable destinations throughout the country, however the airport is a sight for sore eyes (and sore bodies.) This delightful little facility has won International awards for its environmentally friendly design and bucolic charm.
Note: Bear in mind you will be required to pay a 450 baht per person surcharge upon your departure from Samui airport, payable in baht.
An economical option to consider is a flight from Bangkok to Suratthani with Thai Airways. The cost of the ticket is substantially less than the Bangkok Airways direct flight to Samui. However from Suratthani you will still have to take a bus from the airport to the ferry for the 1 hour 20 minute boat ride across. Because of the ferry and flight schedules, this itinerary seems more practical going than coming.
BANGKOK AIRWAYS
Tel: (662) 229-3434

Bus
While it has certain drawbacks, the bus is easily the most economical way to travel, and an adventure in itself. You can buy tickets and board at the major Bangkok public bus stations, or if you are stopping at Khao San Road, you can catch an overnight bus departing in the evening, to all southern destinations including Samui. You will stop very early in the morning at Suratthani, which is the mainland access city to Samui, where you will transfer to another bus for the trip to the ferry that crosses to the island.
Be aware that not all buses are the same. Spending a few baht more can make a significant difference in comfort. The most comfortable are probably the overnight "Super VIPs." These air-conditioned double decker vehicles have toilets, seats that lean back quite far with leg rests at the bottom, and they also supply blankets for the journey. All buses stop at least once for refreshment, but little or no food or drink is served on board. An evening video is almost always shown on an overhead TV, and played at volumes that may make sleep difficult. However once the film ends around 10:00 pm, if you're lucky, you may sleep through much of the night.
Khao San Road Known to readers of every budget traveler's guide, this little corner of the city is the first stop for many first-time travelers to Thailand who wish to spend a little time in Bangkok before continuing their journey. Catering especially to "backpackers", most find Khao San Road a very hospitable place, and the easiest way to ease into the country with a minimum of culture shock. All the merchants and travel agents speak English, there are second-hand bookshops, coffee shops and inexpensive guesthouses, and many spend a few very comfortable days there chatting with travelers from all over the world before moving on to their next destination.
AIR-CONDITIONED COACH
Tour buses run directly from Bangkok to Samui, and Samui to Bangkok via the vehicle ferry from Donsak in Suratthani Province.
Southern Bus Terminal :
Boromratchchonnani Rd, Bangkok Tel: (662) 435-1200, 434-7192

Train
You can economize by making the trip from Bangkok (or elsewhere) to Samui by taking the train, and if you have the time, it can be good fun. Most people opt for a second-class berth in a fan-cooled or air-conditioned compartment, while a private first-class cabin for two can be very romantic! Either way, the cabin service is usually quite good
While the trip is long and the noise of the train may wake you up often, new friendships are sometimes made during the journey. Don't forget to take a bottle of water and tissue paper on board with you. The conductor will waken you prior to your early morning arrival in Suratthani, but you might want to take a small alarm clock with you in case.
NOTE: If no sleeping berths or (reclining) seats in second class carriages are available, think very carefully before buying a third class train ticket. The seats are straight backed and fairly rigid, and the carriages can get very full and warm. It might be the longest journey of your life.
When you disembark at Suratthani, employees of the bus company will be waiting to stow your bags in the correct bus that will take you to the ferry pier for the boat ride to Samui.
When you board the ferry, if you're still sleepy, you can buy a seat in the "VIP" aircon lounge for 40 baht. The seats recline and are very comfortable.
These Rail-Bus-Ferry tickets can be purchased at the train station in Bangkok. For the return trip from Samui, you can buy them on the island at Songserm and other travel agents.
STATE RAILWAY OF THAILAND
Thon Buri Station Southern Line
Advance tickets are available at all principal stations or the Bangkok Advance Booking Office.
Tel.(662) 225-0300 ext 5200-3.

Boat
If you are planning to drive to Donsak Ferry pier and put your vehicle on board, plan to arrive at least 45 minutes prior to the departure of the boat you wish to take, so that you are not too far back in the queue.
Getting Around

Samui is an explorer's dream. It is just big enough to offer a wealth of diversity of landscape, vistas, flora and fauna, and yet small enough to seek adventure in its many out-of-the-way places, while hardly ever losing sight of sea. Below are some ways in which you can do this.
By Taxi
For many reasons, the least suitable for exploring, but the safest and easiest way to get from point A to B if you don't know where B is! Drivers of public (red) taxis have operated uncontrolled for years. Regrettably they have been the source of many complaints. These have included rudeness, overcharging, and occasionally worse. Efforts are now being made to address all these problems. In the meantime however: obtain a copy of our TAKS "Getting the Most from Samui" guide booklet when you arrive. Use the instructions and the chart inside to ensure that you pay fair rates and avoid confrontation.

If you rent a Jeep
Available from many family-owned agencies and some large companies whose names you will recognize, the rental of a 4 wheel drive vehicle will allow you a lot of freedom. It will serve as your basic transport, but you can also use it to circumnavigate the entire main ring road of the island (about 1 hour) and more. You can visit many hillside natural and man-made attractions which are easily accessible from the ring road. You can stop at them all, going at your own pace. If you are especially adventurous and have experience in off-road driving, you may head up unto the mountains. (Rented dirt bikes are another option for those who want to go off-road.)
There, if you can negotiate the ruts and sometimes seemingly impossibly steep inclines, you will be rewarded with spectacular views of the surrounding islands, as well as flora and fauna that is overwhelmingly beautiful. If Samui is paradise, its mountains are its Shangrilah.
Some of these vehicles come with insurance, but the coverage is limited. You had better ask for the details.
By Motorbike
Many of those who remain down on earth, seem to opt for motor bikes to get around town, go to the beach and go out for the evening; making these inexpensive rentals the most popular option by far. They are fast, fun and easy to park. But BEWARE. Many local drivers have not received proper instruction in traffic safety, and tourists are often riding these bikes for the first times in their lives. Many SERIOUS ACCIDENTS happen. People are killed, and the statistics are alarming. However a prudent person need not panic. These accidents are almost always due to a serious lapse in judgement. Remember that while Samui may be a paradise you are still a mortal. Upon your arrival, see the TAKS Guide Booket for the safe driving tips you will need.