Macau Activities and things to do guide
Bird walking is a common sight in Macau's many parks and gardens. At daybreak, as in the olden days of China, men are seen 'walking' their small, bright songbirds in delicate bamboo cages. After a relaxing morning walk, both man and bird will venture to a teahouse to have their breakfast. At the same time, the owner will start boasting about his particular pet to other bird enthusiasts.
Other times, the men will hang their cages on a tree branch and join others in tai chi chuan exercises, which is also known as 'shadow boxing'. The slow, choreographed movements are excellent for toning up the body and mind.

Walk down Leal Senado square and you will see a row of small tables lining the sidewalk under the arcades. The friendly-looking fellows sitting there are fortune tellers who are capable of amazing you with their ability to analyze your character. A cranial chart on display with its jigsaw puzzle of Chinese characters is the tool in which they use to tell you more about yourself. They also offer to read your palm or face to advise you of what is in store for your future.

Along the Praia Grande seawall, several men gather around two individuals sitting in an arched manner looking downwards at a piece of paper. Those who are curious as to what is happening may just approach the crowd and sigh with relief, as they see that the two individuals are engaged in a friendly game of chess. However, one should not be fooled, as the game being played is not exactly similar to the Western-style chess. As complicated as the Japanese 'Go', the board used in Chinese chess is a roughly drawn piece of paper or cloth and the pieces are well-worn bits of wood bearing different characters. The game is played with extreme concentration and discussion, surpassing even the skills of the Western chess players.

Nightlife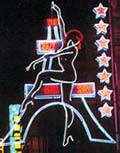 Those who do not take pleasure from gambling may choose to walk the city streets and visit some of the many nightclubs around. Night entertainment ranges from soft lights, sweet music and charming hostesses at some establishments, to lively music. Karaokes are also available for the avid entourage of singers. Rooms can be rented but they are rather costly. Daredevil individuals can share a karaoke machine with other guests in open lounges. Most four and five star hotels have bars featuring live music and animation programs on selected nights.
Some interesting night spots are:
China City
Jai Alai Palace, 1st/Fl., open from 2 p.m. to 4 a.m.
Guia Disco Nightclub
Hotel Guia, open from 9 p.m. to 4 a.m.
Portas do Sol Supper Club
Hotel Lisboa, 2nd/Fl., old wing, opens at 7 p.m. and closes at 1 a.m. on weekdays and 2 a.m. on weekends
Skylight Disco and Nightclub
At Hotel Presidente, 2 nd/Fl., open from 6 p.m. to 4 a.m.
Ritz Night Club
Jai Alai Palace, top floor. Open 9 p.m. to 4 a.m.
Karaoke Lounge
Basement 1 of Hotel Royal, open daily from 8:30 p.m. to 3 a.m.
Bar da Guia
Mandarin Oriental, G/F, with live music and dancing every night from 8 p.m. to 1 a.m. except Mondays. Happy hours from 5 to 7 p.m.
Metropolitan
Century Hotel, open from 8 p.m. to 6 a.m.

In total, there are nine casinos in Macau. All operate under Government franchise by the Sociedade de Turismo e Diversões de Macau (STDM) and rules are standard in all gaming halls. With the exception of the Victory Casino in the Macau Jockey Club, all casinos operate round the clock.
Macau's casinos offer the largest variety of casino games in the world, combining both established western favorites with long popular eastern games of chance. Players can opt for such games as blackjack, baccarat, roulette, boule, "big and small", fantan, and keno. Or they can choose from a glittering array of slot machines (called "hungry tigers" locally), which are computer-linked for super jackpot pay-outs.

Shopping

Like Hong Kong, Macau's most popular buys are jewelry (particularly gold), Chinese antiques, porcelain, pottery, electric gadgetry, cameras, watches, beading work, and knitted wear. They are available at duty free prices, as Macau is a free port. Hence no sales tax is charged, but bargaining is common for many items.
When shopping for antiques, jewelry, and gold, it is better to patronize recommended shops rather than street stalls. Do not expect to buy treasures for a mere trifle from souvenir stalls such as those located at St. Paul's, the Border Gate, and Penha Hill. Obtain a warranty card and receipt for jewelry, gold, cameras, watches, and electrical goods for all purchases, and be sure that you understand what is written on them.
Knitted-wear and locally made clothes can be purchased at economical prices at many street stalls near the S. Domingos market (near Senate Square) in the mornings and in Rua da Palha. Other popular buys are Chinese herbs and medicine, dried seafood like shark's fins, abalone, and Chinese and Macanese pastries.
The main shopping area is located along the Avenida do Infante D. Henrique and Avenida Almeida Ribeiro, São Domingos Market, Rua da Palha, Rua do Campo, and Rua Pedro Nolasco da Silva. For those "in the know" for antiques and buried treasures, Macau's flea market is on the lanes around the Rua das Estalagens (near St. Paul's Ruins).
Visitors can call the Tourist Assistance Unit should they have any complaints.

Greyhound Races

The sole Greyhound racing facility in Asia is at the Canidrome, which is located in the northern part of the city. Today, it is considered one of the largest and most unique in the world.
Canidrome's uniqueness is its 500-yard oval track, two grand stands, several private boxes, a VIP lounge, and a coffee shop. Races are held four times a week on Tuesdays, Thursdays, Saturdays, and Sundays with over 300 dogs racing each day. Races are broadcast over radio and TV from studios that are located within the complex.
Entry to the Canidrome is 2 patacas and to the Members' stand is 5 patacas.

The Macau Jockey Club, situated on Taipa Island, is one of the most technologically advanced racecourses in the Asian Region. Over 900 fine thoroughbreds, imported from countries such as United Kingdom, Ireland, Australia, New Zealand, Canada, U.S.A., and France, are trained here. There are free shuttle buses that take horseracing fans from Hotel Lisboa and the pier to the racecourse on racing days. An air-conditioned grand stand provides a comfortable view for visitors who are served a choice of Chinese and European cuisine.
Race meetings are held every weekend during the racing season. Occasionally, the meetings are held on Wednesday and Thursday evenings, as well as during major festivals such as the New Year, Chinese New Year, and Easter. For further details, check the Race Meeting Schedule.