| | |
| --- | --- |
| | Top Destinations |
| | |
| --- | --- |
| | Travel Tools |

Singapore Overview - Travel Information and Tour Guide
Lying almost on the equator, Singapore is a thriving city-state that has overcome its dearth of natural resources to become one of the juggernaut economies of Asia. In the crowded streets of Chinatown, fortune tellers, calligraphers and temple worshippers are still a part of everyday life. In Little India, you can buy the best sari material, freshly ground spices or a picture of your favourite Hindu god. In the small shops of Arab Street, the cry of the imam can be heard from the nearby Sultan Mosque.

Singapore may have traded in its rough-and-ready opium dens and pearl luggers for towers of concrete and glass, and its steamy rickshaw image for hi-tech wizardry, but you can still recapture the colonial era with a gin sling under the languorous ceiling fans at Raffles Hotel. It is this carefully stage-managed combination of Western modernity and treasured Eastern and colonial past that makes Singapore such an accessible slice of Asia.

Singapore is known by many different names, all with a certain fondness to their titles, such as "Surprising Singapore", "Garden City", "Golden City" and even "Instant Asia." All these descriptions fit and anyone who visits will soon agree. With its truly international atmosphere, all in just under 618 square km it has all the attractions a visitor could wish to find.
It is a vibrant metropolis where close on 3 million Chinese, Malays, Indians and Eurasians live and work side-by-side. It has a thriving business and financial centre, is the world's busiest port and its airport serves more than 60 major airlines, including the country's own international carrier, Singapore Airlines, daily. Communications and transport, including its hi-tech Mass Rapid Transit system and taxis make getting around and doing business simple and convenient.
Singapore has an astonishing mix of old ethnic areas, modern offices and shopping complexes. It has over 70 world-class hotels, 18 lush golf courses, and a host of tourist attractions. From classical symphonies to Chinese operas, jazz to ballet, rock to Hollywood's latest hits, Singapore offers unlimited entertainment.
There is so much to do whether you are a sport enthusiast or interested in leisurely activities. Hire a sailboard at the East Coast Parkway, or bike along the 8 km track. Swim at a sandy beach, feast on seafood at a clutch of nearby restaurants, or try your hand at kite flying. Catch a ferry to the outlying islands of St John's and Kusu, where swimming lagoons and cool, shady groves combine to make for a relaxing day out of the city. Drop into the Bukit Timah Turf Club for a day of horse racing at one of Asia's most beautiful courses, or watch a polo match at the Singapore Polo Club. You can play a round of golf, or brush up on your tennis at the hotel courts or nearby public facilities. All in all Singapore offers a world of attractions.
Geography

Singapore is an island of 646 sq. km, about the size of Chicago. It is located at one of the crossroads of the world. Singapore's strategic position has helped it grow into a major center for trade, communications, and tourism. Its geographical location is 96km north of the equator, between longitude 103 degrees 36' East and 104 degrees 25' East. Singapore is often touted as a concrete jungle with close to 90% of the population living in flats and an ever-changing skyline of monumental buildings. Government and private enterprises also conduct an orchestra of automation that makes Singapore one of the world's most efficient societies. Yet Singapore has also been known as a green city. There is a wealth of flora and fauna here that is beyond our own imagination.
Two causeway bridges link Malaysia, which is just north of Singapore. The key islands of the Riau Archipelago of Indonesia are also just a quick ferry trip away, whereas Thailand and the Philippines are a short plane journey away. Singapore, with an airport served by more than 69 airlines, is very much the gateway to Southeast Asia
Singapore's climate is warm and humid, with temperatures ranging from 23 degree Celsius to 31 degree Celsius. This makes it ideal for those who enjoy sunbathing, swimming, sailing, and other water sports. For those who do not enjoy the tropical climate, Singapore is sheltered from the worst effects of the sun with air-conditioning in almost all of its buildings, including restaurants. Rain falls throughout the year with more consistent rain during the monsoon season from November to January. Showers are usually sudden and heavy, but brief and refreshing.
Singapore is 8 hours ahead from GMT.

People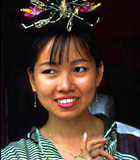 Economists describe Singapore as a modern miracle because it has built its success on only one resource, its people. Lacking natural resources, Singapore's strength is its hardworking, adaptable, goal-oriented, and resilient population. In fact, it is highly regarded by the Business Environment Risk Intelligence as one of the best labor forces in the world.
Singapore's population of approximately 3,612,000 (June 1996) comprises 77.3% Chinese, 14.1% Malays, 7.3% Indians, and 1.3% people of other descent. Singapore's indigenous people were the Malays, but after the arrival of Sir Stamford Raffles and the establishment of a British trading post, Singapore became a magnet that drew thousands of migrants and merchants. It still retains its special multiracial quality acquired from its early days when Arabs, Chinese, Europeans, Indians, and Straits-born Chinese (or Peranakan) came to live side by side with the indigenous Malays. Though inter-marriages have taken place over the years, each racial group within Singapore has retained its own cultural identity while developing as an integral part of the Singapore community. It is a country where the three main races (Chinese, Malay, and Indian) complement and supplement each other.
There are four official languages in Singapore: Malay, Mandarin, Tamil, and English. The working language is English and it is widely spoken and understood. Most Singaporeans are bilingual, speaking both their mother tongue and English.
With this mixture of people, Singapore is also a mixture of religions. Its skyline boasts the distinctive minarets of mosques, spires of gothic cathedrals, intricate figurines of Hindu temples, and distinctive roof architecture of Chinese temples. The main religions are Islam, Buddhism, Christianity, Hinduism, Sikhism, Judaism, and Zoroastrians.

Politics



Singapore is not just one island but a main island with over 60 surrounding islets. However, its compact size belies its economic growth. In just 150 years, Singapore has grown into a thriving center of commerce and industry. Its former role as an entrepot has diminished, as the Republic increased its manufacturing base.
Singapore is the busiest port in the world with over 600 shipping lines sending super tankers, container ships, and passenger liners to share the busy waters with coastal fishing vessels and wooden lighters.
One of the world's major oil refining and distribution centers, Singapore is also a major supplier of electronic components and a leader in shipbuilding and repairing. It has also become one of the most important financial centers of Asia with more than 130 banks. Business dealings are facilitated by Singapore's superb communications network, which links the Republic to the rest of the world via satellite, 24-hour telegraph, and telephone systems. Singapore's strategic location, excellent facilities, fascinating cultural contrasts, and tourist attractions contribute to its success as a leading destination for both business and pleasure.

Weather

For sun babies, Singapore's tropical climate is heaven-sent! The island is warm and humid all year round, with only slight variations between the average maximum of 31 degrees Celcius and minimum of 23 degrees Celcius. This makes it ideal for those who enjoy sunbathing, swimming, sailing and other water sports. But for those who do not enjoy the tropical climate, Singapore is sheltered from the worst effects of the sun with air-conditioning in almost all of its shops, hotels, office buildings and restaurants.
Rain falls throughout the year, with more consistent rain coming during the monsoon season from November to January. Showers are usually sudden and heavy, but also brief and refreshing.

For timely weather updates, click here.
Currency

The currency unit is the Singapore dollar (S$). Approximately S$1.80 = US$1.
Coins are in denominations of: 1, 5, 10, 20, 50 and 100 cents.
Notes are in denominations of: $1, $5, $10, $20, $50, $100, $500, $1,000 and $10,000.
Brunei notes are interchangeable with Singapore notes and are quite common.
Things to Know



Population: 2,700,000
Capital: Singapore
Flag: Two equal horizontal bands of red (top) and white (bottom); on the hoist side of the red band is a white crescent that is partially surrounding a circle of five white, pointed stars.
Shop Hours: Shop hours vary, although Monday to Saturday from 9am to 6pm are the most common. Some department stores, Chinese Emporiums, and stores that cater solely to tourists stay open as late as 9pm seven days a week.
Bank Hours: Generally10am to 3pm, Mondays to Fridays and 11am to 4:30pm, Saturdays.
Holidays:
January 1 - New Year's Day
January 31 ~ February 1 - Lunar New Year
March 3 - Hari Raya Puasa
April 14 - Good Friday
May 1 - Labor Day
May 10 - Hari Raya Haji
August 9 - National Day
October 23 - Deepavali
December 25 - Christmas Day

Time: Singapore Standard Time is 8 hours ahead of Greenwich Mean Time, 13 hours ahead of Eastern Standard Time, and 16 hours ahead of Pacific Standard Time.

Tipping:
Tipping is not very common in Singapore. It is prohibited at the airport and discouraged at hotels and restaurants, as most have already added a 10% service charge to the bill.

Taxis: Taxis drivers do not get tipped.

Visas And Passport

A visa is not required for U.S., European and Australian citizens for a stay of up to 14 days. All visitors are required to have a valid passport and onward ticket.

Customs Regulations

BE FORWARNED, DEATH FOR DRUG TRAFFICKING
Duty-Free Items: Personal effects and food preparations not exceeding $50 in value. Visitors over 18 and not coming from Malaysia are allowed to bring in duty-free 1 liter of spirits, 1 liter of wine and 1 liter of beer, also 200 cigarettes or 50 cigars or 250 grams of tobacco.
Travel Guides