Singapore Activities - top things to do in Singapore
As the young middle class begins to spend more on entertainment, Singapore's nightlife has also grown with its increase in interesting night spots. There are a large number of bars and discos, which are becoming increasingly sophisticated in Singapore today. Pool, wine, and cigars are the norm and that is what the young-at-heart are indulging in these days at the various groovy hangouts. Visitors can choose between exciting bars, clubs, discos, and karaoke. Serious "fun" is also available in the form of Chinese street operas, night markets, theater productions, classical music performed by the Singapore Symphony Orchestra, dances performed by the Singapore Dance Theatre, international bands, and off-Broadway productions. Singapore's nightlife does, indeed, make the country a truly bustling city.
Orchard Road


The sustenance of Singapore's shopping scene during the day, Orchard Road pulsates to a different beat at night. It was and still is the main center for nightlife, showcasing bars, discos, and nightclubs to please all who visit this place. Many of the well known places are located in the hotels here, whereas other favorites are found in shopping centers, such as Orchard Plaza, Orchard Towers, and Ngee Ann City.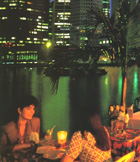 Boat Quay

Boat Quay has become so popular that the rest of Singapore just seem to pale in comparison. It is arguably Singapore's best place to hang out. It has a good mix of high-end restaurants and alfresco dining, lively bars and pubs. It has so many bars that visitors can wander along until one takes their fancy. Boat Quay attracts everyone from the rich and famous to the younger Singaporeans. The crowds start coming at about 6 p.m. with weekends being very busy until 2 or 3 a.m. Weekdays are usually quieter with most bars closed by 1 a.m.
Although it is the quieter cousin of Boat Quay, Clarke Quay does have a good selection of places for a beer. It features five blocks of restored and renovated warehouses, which are now homes to hip entertainment, dining outlets and shops of all kinds, including second-hand and antique shops. During the daytime, Clarke Quay presents the Stay Club, which is popular for its satay (a Malay dish) and barbecued seafood. In the evening, theme pubs and bars come alive with all kinds of music, such as classic rock, hard rock, the blues, and music from the 60s. Moored Chinese junks are also refurbished into floating pubs and restaurants. The bars here are not as crowded as those in Boat Quay.
Bugis Street



Bugis Street was named after the rugged Bugis traders who came to Singapore from Sulawesi (Celebes), Indonesia. It has been said that after disposing their goods, these traders would gather to eat, drink, and be merry until the wee hours of the morning. Although the traders are not around now, there is still plenty of merrymaking in Bugis Street with bars, discos, and a Broadway-style saloon.

Changi Village

Apart from serving as a departure point for Pulau Ubin, Changi is also home to Changi Village, as known by the locals. Changi Village has several cafes and restaurants. Some of these places also feature live bands. It is a laid-back spot by the sea and is an interesting place to be.



Holland Village

Possibly the most exciting suburb, Holland Village has a buzz of its own. It is another place to hang out with its fast food outlets, coffee houses, world-famous ice cream chains, cafes, and the numerous bars and restaurants. In a way, it resembles Boat Quay but in a more homely manner.
Marina South



Apart from fine dining restaurants, Marina South has bowling lanes, pubs, clubs, wine bars, cafes, discos, and snooker parlors to entertain the various age groups in Singapore.
Singapore is definitely not short of cinemas. Apart from the usual Hollywood and Asian films, there are a few cinemas, which do feature art house movies. Such examples include Cathay Cinema's Picture House and Shaw Tower's Jade Classics. Various expatriate clubs do show certain movies. The Alliance Francaise, for example, often has movies open to the public, with some featuring English subtitles. Singapore also stages its annual film festival in April every year, with over 100 documentaries.
Theater



Singapore's theater scene has started to boom, as more Singaporeans become interested in expressing and discovering their identity. There are more local plays although there are plays, Broadway productions and concerts held here by international theater groups. Alternative theater venues are also opened to cultivate an interest in theater. Plays, workshops, poetry readings, and visual art exhibitions are held in these places.
Various shows featuring different cultures can be found all over Singapore. In Chinatown, visitors may have the chance to watch Chinese opera. Some hotels also feature dancing and music from all over the region. To find out when and where these shows are held, visitors can check local newspapers, weekly or fortnightly publications for details.



Bike Hashing is one way to meet new friends and get to know Singapore and the surrounds while keeping fit at the same time. To find out more, get in touch with Monique, telephone: 65+4632143
Climbing can be accomplished at various venues on Singapore Island as well as some of the offshore islands. For more information contact the Singapore Climbing Federation on 65+3554502.
Cycling is a great recreational activity. Cycling paths link many parts of the island. Those with a strong sense of adventure can go mountain or dirt biking. Bicycles can be rented at a number of public parks, including those at East Coast Park, Sentosa, Pasir Ris, and Bishan. Pulau Ubin also offers mountain and dirt biking.
Golf Singapore has some of Asia's finest golf courses. Fees range anywhere from S$40 to S$200. There are several world-class golfing facilities in Singapore. If these are not enough, golf courses in neighbouring places, like Bintan and Batam in Indonesia are just a short ferry ride away and Johor in Malaysia is just across the

Causeway.
Health and sports enthusiasts will not feel left out in Singapore. Fitness centres and swimming pools are located at most of the large hotels.
Horse racing On-site racing as well as live telecasts of Malaysian races can be enjoyed at the Singapore Turf Club, telephone 65+4603400 for more information. Visitors must observe a strict dress code: Shorts, singlets, and slippers are not allowed in the public stands. Smart casual is the dress code for the Members' Enclosure. Admission is S$5.15 and S$10.30 for the public stands, and S$20.60 for foreign passport holders (except Malaysian) for the air-conditioned

Members' Enclosure. Races take place on weekends only and start at 1:30 p.m. with the last race at 6:00 p.m.
Horse Riding is an increasingly popular sport in Singapore and it is one of the few cities providing such country amenities in city living. Have fun together with your family. Ride ponies and horses with your children in school lessons or out on casual rides. Contact the Saddle Club on 65+4662782 or go and see them at 51 Fairway Drive (off Eng Neo Avenue), Singapore.
Jogging and ball sports Most parks have tracks for jogging, and many have tennis, squash and badminton courts. In addition, sports facilities managed by the Singapore Sports Council are all over Singapore.
Paint Ball Is a new sporting activity in Singapore. There are two facilities for the action packed pastime, one at Pasir Ris and the other on Sentosa Island.
Sailing is an exciting, yet at the same time, relaxing pastime. What better way than to meander along Singapore's coast line or you can drift across to off shore islands at sunset. This is one sport the whole family can enjoy, no matter what their ages are, from the toddling toddler to tottering granny, all can join in. For more information, contact the Singapore Yacht Club on: 65+2650931 or the Changi Sailing club telephone: 65+5452876
Tennis and Squash Need to de-stress after a long day? Try any of the tennis and squash centres in Singapore. Charges range from S$3.50 per hour during non-peak hours to S$6 per hour during peak hours in the evenings.
Water-skiing All water-ski centres are open from about 9:00 a.m. to 5:30 p.m. (including public holidays). Costs range from S$65 to S$85 per hour.
White water sports are rapidly becoming part of the sporting scene in Singapore, although there are no raging rivers on the island itself, the nearest, and most accessible is at Sungei Selangor, which runs off Fraser Hill, 1 hr fro

m Kuala Lumpur in Malaysia. This river offers both simple sections for beginners and Grade 5+ waters downstream. Tracks Outdoors regularly run courses and whitewater rafting trips down this river. For more information telephone: 65+7324358
Windsurfing and sailing Windsurfing, costs are around S$20 for two hours, with a S$10 deposit. You can rent a sailboat for about S$20 per hour with a S$30 deposit. Rental hours are from 9:30 a.m. to 6:30 p.m. Contact the Europa Sailing Club at Tel: 65+4495118