Singapore Attractions - Top Sightseeing and things to see

One of Asia Pacific's largest and most impressive bird parks, Jurong BirdPark offers visitors an experience that is entertaining, as well as educational. Its beautifully landscaped 20-hectare area is home to over 8,000 birds from 600 species, all displayed in huge enclosures.
The bird shows at the Pools Amphitheatre that feature flamingoes, macaws, hornbills, and cockatoos are both spectacular and funny. They are highly recommended for children. The Penguin Parade enclosure in a re-created Antarctic setting houses more than 200 penguins of 5 species. There are also 50 other sea birds such as the Inca terns and puffins within the Penguin Parade enclosure. Another highlight is the colorful hornbill and toucan exhibit. Jurong BirdPark has one of the largest hornbill collections in the world. The Southeast Asian Birds Aviary houses more than 100 species of birds from the equatorial jungles of Southeast Asia in its 24 individual aviaries and a main walk-in aviary. The birds' natural equatorial habitat is re-created with simulated tropical thunderstorm everyday at noon. Owls and kiwis can be found at the nocturnal house and there is also a colorful Parrot Paradise.
The best way to start a tour of the BirdPark is to board the modern, air-conditioned monorail system (extra charges apply). Its route covers the entire Park, providing excellent elevated views of the various exhibits. A walking tour is then suggested, using the Park's footpaths and map. Jurong BirdPark was the winner of the 10th. Tourism Award 1995-Leisure Attraction of the Year. It opens from 9 a.m. to 6 p.m. on weekdays and from 8 a.m. to 6 p.m. on weekends and public holidays. Certain facilities are also available for the physically disabled.
Getting there :Take SBS Bus 194 or 251 from Boon Lay MRT Station.

The Night Safari



As the world's first and only night zoo, this is an experience that cannot be missed. There are over 1,200 animals of over 110 exotic species to see. The animals are in 8 zones that recreate various geographical regions, such as the Southeast Asian rainforest, the African savanna, the Nepalese River Valley, the South American pampas, and the Burmese jungle. Using natural barriers rather than artificial dividers, the Night Safari promises a dramatic introduction to a nocturnal world where animals prowl, play, hunt, and feed. Visitors can view the safari by tram (extra charges apply) or by foot along the walking trail. The Night Safari was the winner of the 11th and 12th Tourism Awards 1996 and 1997-Leisure Attraction of the Year. It opens from 7.30 p.m. to midnight daily.
Getting there : Take SBS Bus 138 from Ang Mo Kio MRT Station or TIBS Bus 927 from Choa Chu Kang MRT Station.

The Singapore Crocodilarium

At the Singapore Crocodilarium, visitors can view over 1,000 crocodiles at close proximity. Feeding time is at 11 a.m. on Tuesdays. A comprehensive reptilian product shop is also available. The crocodilarium is open from 9 a.m. to 5 p.m. daily.
Getting there : Take a taxi from either Paya Lebar MRT Station or Eunos MRT Station.

Chinatown



Singapore Chinatown's history dates back to 1819 when the first Chinese junk arrived from Xiamen, Fujian province in China. The passengers, all men, set up home around the south of the Singapore River, which is known as Telok Ayer today. Conditions were harsh. The only source of fresh water was from the many wells in Ann Siang Hill and at Spring Street. Each household had to collect fresh water in bullock-drawn carts, hence Chinatown's local name, Niu Che Shui (Bullock Cart Water). Today, Chinatown is the venue of lovingly conserved buildings, century-old beliefs, and intriguing contrasts. Parts of Chinatown are not even Chinese. For example, one of Singapore's oldest Hindu temples and mosques was built even before the Chinese immigrants dominated the town. There are also many other temples and shops to visit. Chinatown can be divided into four main districts: Kreta Ayer, Telok Ayer, Tanjong Pagar, and Bukit Pasoh. Each has its own distinctive flavor. The heart of activity is in the Trengganu or Smith Streets area.
Getting there : A short walk from Outram Park MRT Station.
Little India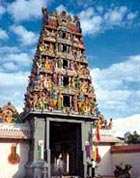 The first Indian settlers in Singapore arrived with Sir Stamford Raffles as assistants and soldiers back in 1819. In the late 19th century, many more Indian immigrants arrived to find work, be it as laborers to build roads or to take up key positions in the civil service. In 1843, cattle rearing and a racecourse were introduced near Little India, thus resulting in the heavy influx of Indians. This area, once covered in gambier, banana, and vegetable plantations, had become a flourishing commercial center for the Indian community. Today, Little India is the emotional and commercial center of the Indian community, including the many foreign workers from India. Its spice-scented streets beckon you to a treasure trove of silverware, brassware, ethnic jewelry, jasmine garlands, and silk saris. There are also many temples here for visitors to explore. During Deepavali, the Indian Festival of Lights, Little India is transformed into a fairyland of gaily decorated and brightly lit streets bustling with shoppers. The best time to visit Little India is early morning when you can enjoy the spicy aromas, the strains of sitar music, and the colorful garlands being made. Little India stretches from Rochor Canal to Lavender Street.
Getting there : From Orchard Road, take SBS Bus 64, 65, or 111 to Serangoon Road.

Kampong Glam


The name Kampong Glam comes from the Glam tree, which grew in the area. Medicinal oil was extracted from the tree and the Buginese and Malays used its bark to caulk their ships. Kampong Glam was the historic seat of the Malay royalty in Singapore. It was originally a fishing village at the mouth of the Rochor River. Today, the area sits between new terrace houses and old shophouses. Highlights of Kampong Glam include the Sultan Mosque, the biggest mosque in Singapore with the capacity to accommodate up to 5,000 Muslims in congregational prayers. Other highlights include the old Malay Cemetery and Rumah Panjang. Also, look out for the Arab cloth merchants with their delicate silks and velvets, as well as food stores selling traditional Arab-Muslim foodstuff and merchandise of all kinds.
Getting there : Walk toward Arab Street from Bugis MRT Station.

Kusu Island



Kusu Island is sacred to both the Muslims and Taoists. There is a legend attached to the Malay shrine and Chinese temple that is on the island. It is said that a giant turtle had transformed itself into a large rock, in order to save two shipwrecked sailors - one was Malay and the other Chinese. Taoists make annual pilgrimages to the Tua Pekong Temple during the 9th lunar month, while Muslims visit the Kramat Kusu, which is a Malay shrine. Stunning views of the mainland can be seen from Kusu's beaches and its hilltops. The warm waters of the lagoon are ideal for swimming.
Getting there : Take a ferry from the World Trade Centre.
Pulau Ubin



Shaped like a boomerang, Pulau Ubin is an island off the northeastern coast of Singapore. An island covered with low hills, it is currently being developed into a nature park complete with trails, shelters, camping sites, chalets, and other basic amenities. Works will be fully completed by the year 2000. Much of its natural environment will be preserved and visitors can still experience the rustic village atmosphere encompassing granite quarries, coconut and rubber plantations, mangrove swamps, fish and prawn farms, and traditional fishing kelongs or huts. Pulau Ubin also has a natural haven of plants, birds, and insects found in its mangrove and forest areas. This island is a great place for mountain biking, hiking, and camping.
Getting there : Take SBS Bus 2 from Tanah Merah MRT Station to Changi Point. Then take a bumboat from the Changi Jetty.

Sister Islands



These tiny southern islands offer a quiet respite from the big city with their laid-back ambience, sandy beaches, and inviting waters. They are perfect for swimming, snorkeling, and scuba diving although the currents are quite strong. Recommended only for experienced divers.
Getting there : Hire a water taxi (S$50 per hour) from Jardine Steps or Clifford Pier. Regular ferry services are not available.
St John's Island



A former penal settlement, this large hilly island has been transformed into a tranquil resort. It has shaded walking paths, swimming lagoons, beaches, picnic grounds, trekking routes, camping sites, holiday bungalows, and soccer fields. A perfect place for weekend getaways.
Getting there : Take a ferry from the World Trade Centre.
Sentosa Island



Sentosa is a wonderful "playground" for people of all ages. It offers nature, history, recreation, and fantasy in an entertaining yet educational way. It was the winner of the 9th Tourism Award 1994 - Leisure Attraction of the Year. There are many different activities available for anyone.

Sentosa also offers a gastronomic experience. Different restaurants and fast food centers are placed all over the island. Public buses, ferry services, and cable cars are also available.

Singapore History Museum



The History Museum's mission is to explore and to enhance the national identity of Singapore by preserving, presenting, and interpreting the nation's history and material culture in the context of its multi-cultural origins. Exhibitions and activities are traced from a Singaporean perspective. They are mainly divided into the social, economic, constitutional history, and community history of Singapore. The Museum also works with its overseas counterparts to stage exhibitions that trace the roots of Singaporeans with their immigrant homelands. For example, the Fujian exhibition was organized jointly with the Xiamen Cultural Bureau. Visitors will also be able to stroll through an early 20th Century Peranakan house that is fully recreated with its imposing ancestral hall. On Tuesdays, and Thursdays to Sundays, the museum is opened from 9 a.m. to 5:30 p.m. On Wednesdays, it is open from 9 a.m. to 9 p.m.
Getting there : Walk towards Stamford Road from Dhoby Ghaut MRT Station.

Marina South City Park



With fine views of the sea, this park blends art with nature. Giant sundial and disc sculptures that revolve in the breeze are artistic attractions of the park. They include sculptures of Confucius, seven other Chinese legendary heroes, and a 13-meter high brass and stainless expression of Singapore's aspirations called "Spirit of Youth and Sculpture Fountain". The open spaces and breezy environment make it a popular haunt for kite-flying enthusiasts. There are no operating hours.
Getting there : A short walk from Marina Bay MRT Station.

Chinese and Japanese Gardens



Linked by a 65m bridge, the Chinese and Japanese Gardens reflect very contrasting landscapes. The 13-hectare Chinese Garden portrays the Imperial Sung Dynasty style and echoes the magnificence of the Beijing Summer Palace. It has bridges, a tea gallery, a stone boat, twin pagodas with excellent views, and other brilliant Chinese architecture. On the other hand, the Japanese Garden places heavy emphasis on simplicity using stone lanterns, shrubs, Zen rock gardens, traditional summerhouses, and classical Japanese motifs. They blend together to create a soothing atmosphere. Both gardens are open from 9 a.m. to 7 p.m. from Mondays to Saturdays, and from 8:30 a.m. to 7 p.m. on Sundays and public holidays.
Getting there : A short walk from Chinese Garden MRT Station.

East Coast Park



Most Singaporeans regard East Coast Park as a favorite play area as it is full of different possibilities. Activities such as bowling, cycling, windsurfing, canoeing, and roller-blading can be enjoyed at this park. Families can also hold picnics here while enjoying the beauty of the park. Other leisure attractions include the East Coast Tennis Centre and the Laguna Golf Course. Eating outlets are also available around the park's vicinity. There are no operating hours.
Getting there : Take SBS Bus 16, alight at Marine Terrace and use the underpass to cross the expressway.

Mandai Orchid Gardens



As Singapore's largest commercial orchid garden, it is definitely worth a visit. Arrays of colorful displays greet visitors at the gardens. One will also be able to witness the method and manner of cultivation. The 4-hectare garden features a whole hillside covered with flowering orchids in the open sunshine, including Singapore's national flower, the Vanda Miss Joaquim. There is also a landscaped Water Garden at the valley with many plants of botanical interest. The "Orchid Gift Box Service" will deliver the elegant flowers to any address in the world. The garden is open daily from 8:30 a.m. to 5:30 p.m.
Getting there : Take SBS Bus 138 from Ang Mo Kio MRT Station.

Chijmes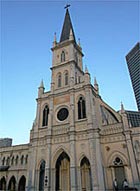 A former convent, Chijmes (pronounced "chimes") is a unique blend of historical architecture and modern restoration. It offers an exciting dining, shopping, leisure, and entertainment experience. Within its grounds stands the Chijmes Hall, which was erected in 1890. It is a showcase of plasterwork, delicate wall frescoes and stained glass. This restored chapel provides a spectacular backdrop for musicals, recitals, and other theatrical performances. Apart from the chapel, it boasts the oldest freestanding house in Singapore, the Caldwell House. Chijmes is also home to art galleries, boutiques, and a lavish selection of fine dining restaurants, wine bars, and cafes. Operating hours begin at 11 a.m.
Getting there : Alight at City Hall MRT Station.
Merlion Park



The Merlion Park is home to the half-lion, half-fish sculpture, which is a national icon. The Merlion statue was officially located at the mouth of the Singapore River on September 15,1972. A ubiquitous tourism symbol of Singapore, it is open daily from 7 a.m. to 10 p.m.
Getting there : Walk towards the Esplanade from Raffles Place MRT Station. Or take TIBS Bus 167 or 182 from Orchard Road.
Supreme Court and City Hall



Built in 1939, this classical building with its Corinthian columns, classic design, and spacious interiors that feature murals by Italian artist, Cavaliere Rodolfo Nolli, projects a sense of quiet restraint and dignity. It is one of the finest buildings ever built during the British rule in Singapore. Exhibits on the history of the Courts and interactive electronic information kiosks are located at the ground floor of the Supreme Court Building. Just beside the Supreme Court is City Hall, which was built in 1929. It was the setting for the Japanese surrender to Lord Mountbatten in 1945 during World War II.
Visitors are welcomed to tour the premises, as well as attend all open court hearings unless otherwise ordered. However, visitors are requested to be appropriately attired (no sleeveless t-shirts, shorts, singlets or slippers). Photographic and video equipment are not allowed on the premises. Other electronic equipment such as handphones and pagers must be turned off or switched to silent mode.
Getting there : Walk towards the Padang on St. Andrew's Road from City Hall MRT Station.



Civilian War Memorial

The War Memorial is dedicated to civilians who died during the Japanese Occupation in World War II. It has a structure of four tapering white columns that reach 67-meters high each representing a different ethnic group. Singaporeans commonly refer it to as the "chopsticks memorial".
Getting there : Alight at City Hall MRT Station.