| | |
| --- | --- |
| | Top Destinations |
| | |
| --- | --- |
| | Travel Tools |

Singapore Passport and Visa Travel Guide
Entry and Exit Requirements : If you are holding travel documents issued by the following countries, you will require a valid visa to enter Singapore: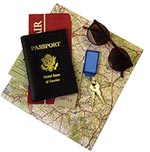 Afghanistan, Armenia, Azerbaijan, Bangladesh, Belarus, Cambodia, China, Georgia, Hong-Kong ,India, Iraq, Jordan, Kazakhstan, Kyrgyzstan, Laos, Lebanon, Libya, Middle East countries, Moldova, Myanmar, Russia, Syria, Tajikistan, Tunisia, Turkmenistan, Ukraine, Uzbekistan, Vietnam, Yemen
Applications for such visas can be made at the nearest Singapore Overseas Mission or submitted by your local sponsor on your behalf at the Singapore Immigration & Registration.
Generally, foreigners who do not require visas for entry and are visiting Singapore as tourists, may be given up to 30-day social visit passes upon their arrival in Singapore. Tourists, however, should have valid passports, onward/return tickets, onward facilities (e.g. visas, entry permit etc.) to their next destination and sufficient funds for their stay in Singapore. If they require a longer stay, they may apply to the Singapore Immigration & Registration after their arrival. The processing of extension of stay will take at least one working day.

In addition, visitors holding Hong Kong Document of Identity, Macao Special Administrative Region (MSAR) Travel Permit, Palestinian Authority Passport, Refugee Travel Document issued by the Middle-East countries and Temporary Passport issued by United Arab Emirates will also require a visa to enter Singapore.
Travel Guides